Causeway Capital Management LLC is an employee-owned investment management firm based in Los Angeles, California, specializing in managing global, international, emerging markets and absolute return strategies. Our clients are institutions located in the United States and Canada, as well as Australia, Europe, Asia and the Middle East. We actively promote the career growth and development of our employees, who enjoy challenging work in a congenial environment.
See open positions
100%
owned by employees, majority-owned by women and minorities (combined)
6%*
low annual personnel turnover
*Annualized since inception
Keisha Moore
Director of Operations
Pete Petersen
Chief Technology Officer,
Chief Cybersecurity Officer
Negin Sohrabi, CFA
Fundamental Senior Research Analyst
Seung Han, CFA
Quantitative Senior Research Analyst
Ms. Moore is director of operations at Causeway and has been with the firm since its inception in June 2001. Ms. Moore manages the back office at Causeway, with responsibilities including trade settlement, portfolio accounting and pricing, performance measurement, corporate actions and proxy voting.
From 1997 to 2001, Ms. Moore was an operations and performance specialist for the Hotchkis & Wiley division of Merrill Lynch Investment Managers (HW-MLIM). She was responsible for global trade settlements, performance measurement, and securities pricing.
Ms. Moore earned an MBA from the Marshall School of Business at the University of Southern California. She earned her BS in mathematics from the University of California, Los Angeles. Ms. Moore currently serves on the Joshua Initiative Board, an advisory committee addressing the needs of inner city youth in Los Angeles.
Mr. Petersen is the chief technology officer and chief cybersecurity officer at Causeway and has been with the firm since its inception in June 2001.
From 1997 to 2001, Mr. Petersen was the senior systems engineer at the Hotchkis & Wiley division of Merrill Lynch Investment Managers (HW-MLIM). He was responsible for managing data center operations and overall infrastructure. Prior to joining HW-MLIM, Mr. Petersen was the director of engineering at Bisys. He was responsible for product development, telecommunications, and its data center. Throughout the 1990s, Mr. Petersen held various development and engineering roles at high technology firms in Silicon Valley including Applied Materials, Oracle, Sun Microsystems, and SCO Unix.
Mr. Petersen studied philosophy at North Carolina Wesleyan University and holds professional certificates from Microsoft, CISCO, Oracle, and 3Com. He is a scoutmaster and unit commissioner with the Scouts of America.
Ms. Sohrabi is a fundamental senior research analyst at Causeway. She joined the firm in July 2015. Her current responsibilities include coverage of companies in the consumer sector. 

From 2012 to 2015, Ms. Sohrabi was an equity research analyst at Kopernik Global Investors and Vinik Asset Management, where she covered the consumer staples sector. From 2011 to 2012, Ms. Sohrabi worked at Tradewinds Global Investors as a research associate covering a variety of industries. Prior to her transition to investment management, Ms. Sohrabi worked at Orion Consultants, a boutique consulting firm, advising senior management at investment banks in institutional fixed income.
Ms. Sohrabi earned a BA, cum laude, in international political economy from the University of California at Berkeley and an MA in Middle Eastern studies from Harvard University. Ms. Sohrabi is a CFA charterholder. She is treasurer of the board of Women in Institutional Investments Network (WIIIN) and board member of Hope on a String, a Haiti-based non-profit focused on social development through music and performing arts.
Mr. Han is a quantitative senior research analyst at Causeway. He joined the firm full-time in July 2011. Mr. Han leads our Causeway Analytics efforts and is the creator of the Causeway Risk Lens. 

From 2006 to 2008, Mr. Han was a portfolio management associate for AQR Capital Management. From 2005 to 2006, Mr. Han was an investment banking analyst for Lehman Brothers. From 2004 to 2005, Mr. Han was with ACNielsen BASES as a client consulting analyst.
Mr. Han earned a BA in chemistry and economics from Swarthmore College and an MBA from the UCLA Anderson School of Management. Mr. Han is a CFA charterholder.
Our values
Client focus
We are responsible for putting our clients' needs above all others. We are accountable for exceeding our clients' expectations.
Respect for fellow employees
We are responsible for fostering a work environment that encourages independent thinking, camaraderie and enthusiasm, and embraces diversity. We are accountable for the career growth and development of each of our employees.
Pride of ownership
As owners, we are responsible for committing the highest level of dedication to our profession. We are solely accountable for the direction and public perception of the firm.
Commitment to family
We are responsible for our employees maintaining a healthy balance between work and family. We are accountable to our employees' families.
Given our commitment to the well-being of our employees and their families, Causeway offers full-time employees a comprehensive array of attractive benefits, including 100% healthcare coverage, 401(k) with 100% matching, and opportunities for employees to participate in local sporting events, concerts and theatrical performances.
See open positions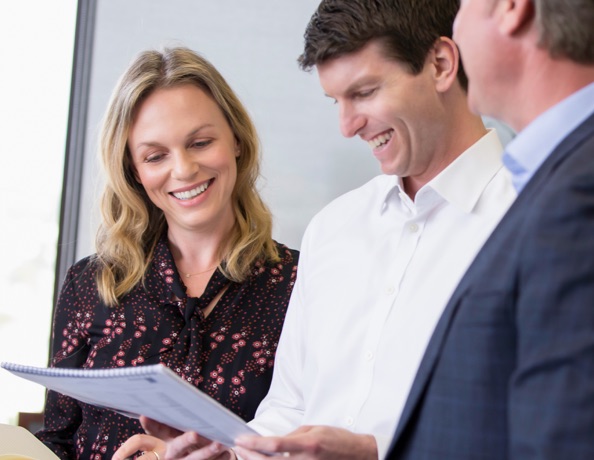 Our equal employment opportunity policy
In order to provide equal employment and advancement opportunities to all individuals, employment decisions at Causeway will be based on merit, qualifications, and abilities without regard to an individual's protected characteristics.  Causeway does not discriminate in employment opportunities or practices on the basis of race, religious creed, color, national origin, ancestry, physical disability, mental disability, medical condition, genetic information, marital status, sex, gender, gender identity, gender expression, age (over 40), sexual orientation, military and veteran status, or any other basis protected by applicable federal, state or local law.  This policy applies to all phases of the employment relationship, including recruitment, testing, selection, hiring, upgrading, promotion, demotion, transfer, layoff, termination, rates of pay, benefits and training.  This policy also applies to protect all job applicants and employees in the workplace, whether full-time, part-time, temporary, exempt or non-exempt, as well as any person who serves in an unpaid internship or any other limited-duration program to provide unpaid work experience.